Shantou Urban Sewage Treatment Project, Create Beautiful Ecological Environment For River
Recently, Shijiazhuang Zhongzhong Technology Co., Ltd. - Shantou urban sewage treatment project after a period of construction, the base constrution of project has been fished. In the project construction site, our construction team is strictly in accordance with the engineering design and quality requirements, to ensure the completion of the project on time. Shantou urban sewage treatment project is used to treat urban river sewage. After the project is completed and operated, it will not only greatly improve the infrastructure of Shantou, but also enhance the urban living environment and quality. It can effectively treat urban domestic sewage to avoid sewage and pollutants flowing directly into the water, which plays an important role in improving urban quality, promoting local economic development and creating a beautiful ecological environment for river.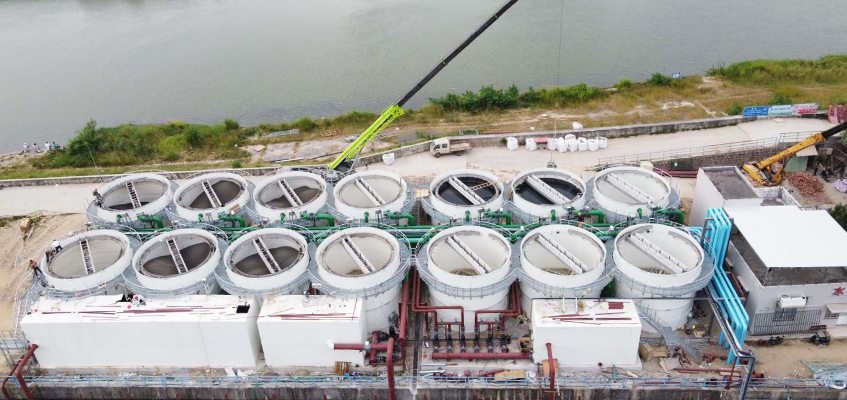 Pollutants in urban river water mainly include natural rainfall, atmospheric dust, household garbage, etc., as well as accumulated river bottom silt and harmful substances released by silt for a long time. The discharge of some sewage will cause some plankton in the water to be in a state of eutrophication, which will bring serious harm to other organisms in the water, so that the biological chain of the ecosystem in the river appears fault phenomenon, seriously damaging the river ecosystem.
Zhongzhong Technology is a comprehensive high-tech enterprise with wastewater engineering, process section undertaking and equipment manufacturing as its main business. The company has always been in the forefront of wastewater treatment industry, continuous innovation, and formed a diversified business development system. In addition to the field of urban river sewage, zhongzhong technology also in breeding wastewater, biogas engineering, industrial wastewater, kitchen waste, landfill leachate, dairy sewage and other fields to provide customers with engineering design, equipment manufacturing, engineering construction, engineering commissioning, after-sales and other all-round services, and has been recognized by many customers. In the future, zhongzhong technology will also firmly grasp the development trend of water environment governance, adhere to the enterprise mission of "China's environmental engineering quality service provider", and make greater contribution to the comprehensive governance of water environment.